Proud finalists for the Dentistry Awards 2017
Call us to book a FREE consult today
Minimally Invasive Dentistry
Here at Westmount Dental Surgery we employ the latest treatments and techniques to create beautiful, natural smiles. For the comfort of our patients, many of our treatments are minimally invasive but still able to produce incredible results.
Cosmetic dental treatment has become increasingly popular, but many people are still put off treatment by concerns about injections, needles and painful procedures. We understand that a trip to the dentist can be daunting at the best of times, which is why we make sure to use non-invasive methods to create healthy, beautiful smiles without any pain or discomfort.
Read more
Whitening
Free Teeth Whitening for all Cosmetic Orthodontics and Implant Patients
Recommend a friend for Cosmetic Orthodontics and recieve FREE Teeth Whitening. Because Orthodontic & Implant treatments
usually take at least 6 months to complete, the patient has 6 months to find a friend.
---
Tooth whitening is one of the most popular cosmetic treatments on the market. Treatment provides teeth with an instant improvement in colour and there is no need for needles or injections. We provide at-home whitening, which is provided with proper care and advice to ensure results are achieved safely, and we also offer in-chair whitening, including Enlighten whitening which is proven to produce VITA shade B1 in every case.
Whitening treatments at Westmount Dental Surgery are delivered with care and accuracy, with patients being well-informed before embarking on any cosmetic treatment.
Before you arrive for in-chair treatment you will be advised to wear a custom-made whitening tray for 2 weeks at home, following which we will then invite you to visit the practice for an hour-long session. This will give your teeth an essential finishing touch. During the in-chair session whitening agent is applied to the teeth and then safely activated to provide a white, natural-looking smile.
Home whitening treatments involve the patient wearing a custom-made whitening tray for a period of time. Most people wear their tray during the night to ensure it does not interfere with their daily routine. The whitening agent gradually lightens the teeth and after the recommended treatment time, your smile will be beautiful and bright.
Whitening treatments are available from £350 and Enlighten is available from £600.
Lumineers
---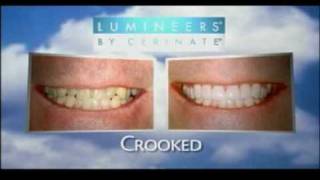 If you are familiar with the celebrity world you will have heard of Lumineers. This is a type of veneer which involves minimal tooth preparation—unlike traditional veneers that require the removal of tiny amounts of tooth tissue before their fitting, a process which is irreversible and can be uncomfortable for the patient. Lumineers are a minimally invasive procedure and can be attached to the existing teeth without the need for tooth preparation.
With Lumineers there is no need for the removal of tooth tissue due to their thinness. The natural structure of the teeth is preserved and there is no pain involved. Lumineers produce incredible, natural-looking smiles because they are available in different shades and have a similar luminescence to natural teeth.
Lumineers are available from £700 per veneer.
Bonding
Cosmetic bonding is one of the most uncomplicated, effective treatments on the market—as long as it is carried out by an experienced dentist. It is a simple, painless treatment which can be used to repair tooth chips, close gaps between the teeth and reshape teeth to create a more aesthetically-pleasing smile.
During the bonding treatment, which is a minimally invasive procedure, dental composite is moulded to smooth jagged tooth edges, build-up chips and close tooth gaps. The material is safely set hard using an intensive light beam. Your dentist will use their skill and expertise to create amazing results and you will be amazed by what can be achieved in just a single session.
This treatment is ideal if you are constantly drawn to uneven or chipped teeth when you look in the mirror or see photographs of yourself. It is a simple, safe and minimally invasive procedure that is able to make a massive difference to the overall look of your smile.
Bonding is available from £150.
Orthodontics
Six Month Smiles Offer
Book yourself in for one arch costing £2000 and have the second arch treated for just £995. That's a saving of nearly 60%! Call now to make an appointment on 0191 510 1732.
---
At Westmount Dental Surgery we are proud to offer the latest, most modern orthodontic treatments, including Clearstep, Invisalign, 6 Month Smiles and the Inman Aligner. These treatments have been chosen for the comfort of our patients and the painless, quick manner in which they are able to achieve beautiful, straight smiles.
These modern, minimally invasive teeth straightening solutions employ the latest advances in dental technology, making the decision to undergo orthodontic treatment easier than ever before. You can choose removable, discreet and comfortable appliances, which provide results quickly and employ gentle forces.
The orthodontic treatment you choose will depend on your orthodontic prescription, general preferences and budget. We can help you to choose the best treatment based on these factors and will be on hand to answer any questions you may have.
The cost of orthodontic treatment varies according to the specific treatment. The Inman Aligner is available from £1500 for one arch and £2400 for both arches, Invisalign is available from £4000 and 6 Month Smiles cost from £2000 for one arch and £2995 for two arch.
Call us to book a FREE consult today
Come Meet our Treatment Coordinator Itrat for a FREE consultation